Chimanimani Mountains & Outward Bound Melsetter

Senior Men's Course # 143 Outward Bound Melsetter June/July 1975

In June/July of 1975 my father, Mort Poultney, following in the tradition of his children, attended a Senior Men's (aka Madala's) course at Outward Bound Melsetter. Being an avid photographer and diarist he carefully recorded the events and experiences of the course which he then wrote up to distribute to those that were there with him. In those days the writing was done on a manual typewriter and the copying on Roneo (Gastetner) stencils - who remembers those ?

I have reproduced his account herewith and added scans of his photographs throughout. I hope to hear from some of the individuals who attended that course - or even their children. Enjoy ! Gordon

Introduction - the Cast and Crew
June 28 to 30 - arrival, initiative tests, basic training, rock climbing
July 1 to 3 - initial expedition up to Peza and Wind Tunnels, more basic training
July 4 to 6 - second expedition to the Bundi Plain, Mtsurussero and Peza; final training
July 7 to 9 - final expedition to Haroni Valley canoe site and Hidden Valley
July 10 and 11 - hike out of the mountains, farewell braai and concert
Photo Album
Home

Tandaai Patrol: Course 143: O.B.M.S Melsetter
Principals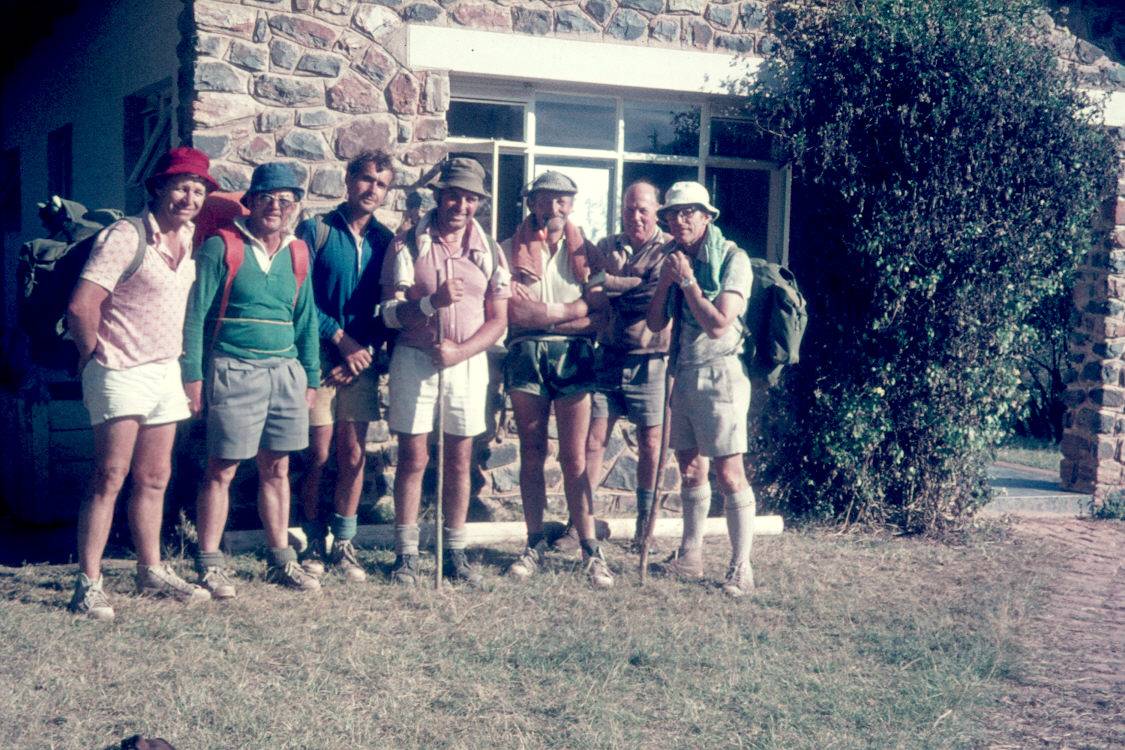 Left to Right : Les Tabor, Mort Poultney, Kurt Braunstein, Alan Robinson, Peter Cushman,
Bill Bailey, Charles Benson
Charles Benson - Chief Executive Officer (Patrol Leader), Patrol Censor and the King of Limericks.
Kurt Braunstein - The Austrian Count, Cordon Bleau Chef, Creator of Field Kitchens Supreme and Wandering Minstrel.
Alan Robinson - O.S.T. (Order of the Silver Trowel), The Admiral, Court Jester and Chief Bailey Baiter.
Les Tabor - The Tea Boy and Official Patrol Timekeeper (On the hour, every hour, "Kerrist I'm Hungry!")
Mort Poultney - Member without Portfolio and Official Patrol Scribe.
Peter Cushman - Gasman No. 1, Instructor Extraordinaire, Kindly Guide and Mentor and Provider of Exotic Victuals.

Supporting Cast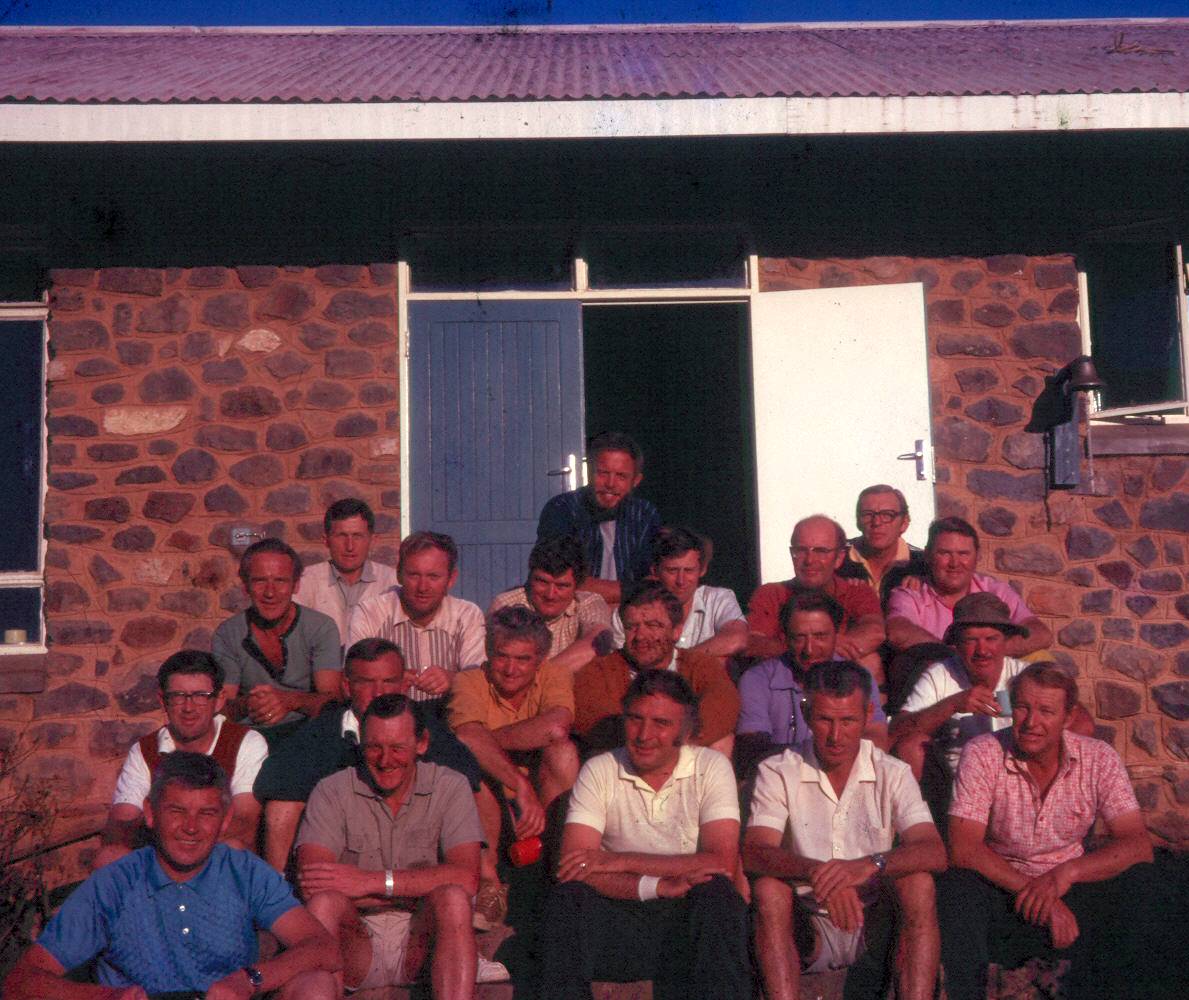 The only persons so far identified are :
Very Top : John Horbury and in front of White Door : Charles Benson
Middle Row - first person on left : Richard Clatworthy
Front Row - Left to Right (first four) : Les Tabor, Richard May, Alan Robinson, Kurt Braunstein

Any help identifying others would be appreciated.
Bundi Patrol
Gerd Schaap (The Beak)
Vic Anderson (The Snakeman)
John Huddy (Cuddles)
Terry Buchan (The Shrinker)
Dave Ward (Number 1 Fuzz)
Dick Cahi (Gasman No. 2)
Owen Davies (Chief Gauleiter)
Haroni Patrol
Leon Alexander (Spud)
Eric Gargett (The Birdman)
Adam Still (The Scots Fuzz)
Alan Riddell
Bill Palmer (Buffalo Bill)
Paddy Martin (The Irish Fuzz)
Brian Jackson (The Gauleiter's Assistant)
Masapa Patrol
Tim Lee (The Secretary Bird)
Steve Millar (Lee Marvin)
Richard May
Richard Clatworthy (The Professor)
John Horbury (Big John)
Gordon Meikle (Intrepid Henry the Navigator alias Wee Spurrit of the Glen)
Producer - Bill Bailey (The Maestro)
Assistant Producers - Lorraine Bailey and Lynn Davies
Assistant Producer - Mike Bailey (Baobab Mike)
Chief Victualers - Peter the Cook and Assistants
SCENE: Outward Bound Mountain School, Melsetter and the Chimanimani Mountains.
TIME: June 28 to July 11 1975.