Chimanimani Mountains & Outward Bound Melsetter

Senior Men's Course # 143 Outward Bound Melsetter June/July 1975 - Part 5 of 5
July 10 and 11 - hike out of the mountains, farewell braai and concert


July 10
Most members of the patrol were up and about by 5 a.m. on this our last day of Outward Bound, and, after a cup of tea, packing kit and ensuring a clean and tidy camp-site, we set off, with the Teaboy once again in the lead, to head back for the School. It was a cold morning and heavy dew on the knee-high grass did not exactly make for comfortable hiking. It was not long, however, before the exertions of walking and short, scrambling climbs got us all well warmed up and, moving out into the rays of the rising sun, as we breasted the first stiff climb up towards a large Col, completed this process.
The views again, were magnificent with the sun-kissed crest of Peza rising into a clear sky, to the North of us, with the ragged sky-line of the Mawenje range sweeping down towards us, to be broken by the grassy plateau of The Saddle, to the East of Southern Lakes (see photo).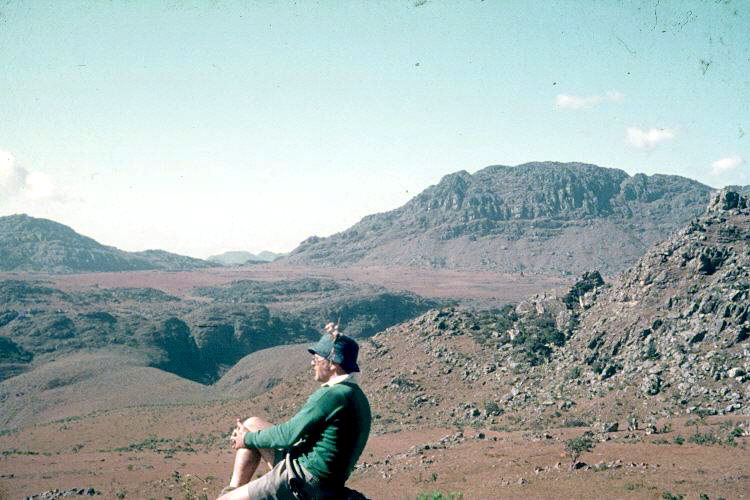 Further along we joined the trail leading from Banana Grove to Southern Lakes, and points beyond, and here we halted at about 9:45 a.m. to enjoy brunch in the lee of a rocky feature with the views being added to by one, Westwards, to Pork Pie Mountain, with the village of Melsetter nestling at its foot, nearly 20 km away- i.e. as the jet propels !

Path from Southern Lakes to Banana Grove. (Click browser Back key to return here).

While we were relaxing here, Haroni patrol came galloping along the trail from the South, and stopped for a while to swop a yarn or two with us, before moving on towards Banana Grove. We kept pace with them for a while, and then decided to let them go, and it was not long before they disappeared from view, to leave the fair countryside quite unblemished once more !
The descent out of the mountains, down Banana Grove, was, this time, a piece of cake compared to our Long Gully effort and, so it is rumoured, at the junction of these two routes, six separate, and very vile curses were put upon Long Gully and the Filthy Five, plus Gasman No. 1, passed by.
At Dead Cow Camp, we found Bundi just rucksacking-up and joined them again, albeit only for a while, on the very final leg into School, which we reached, in true Tandaai tradition, last patrol home, at about 3 p.m. Gaining access to the School, via the Ropes Course, we arrived at the office building and managed to persuade Bill Bailey to pose for an historic picture, with the full complement of Tandaai patrol, just to prove that we had heeded his good advice and SURVIVED!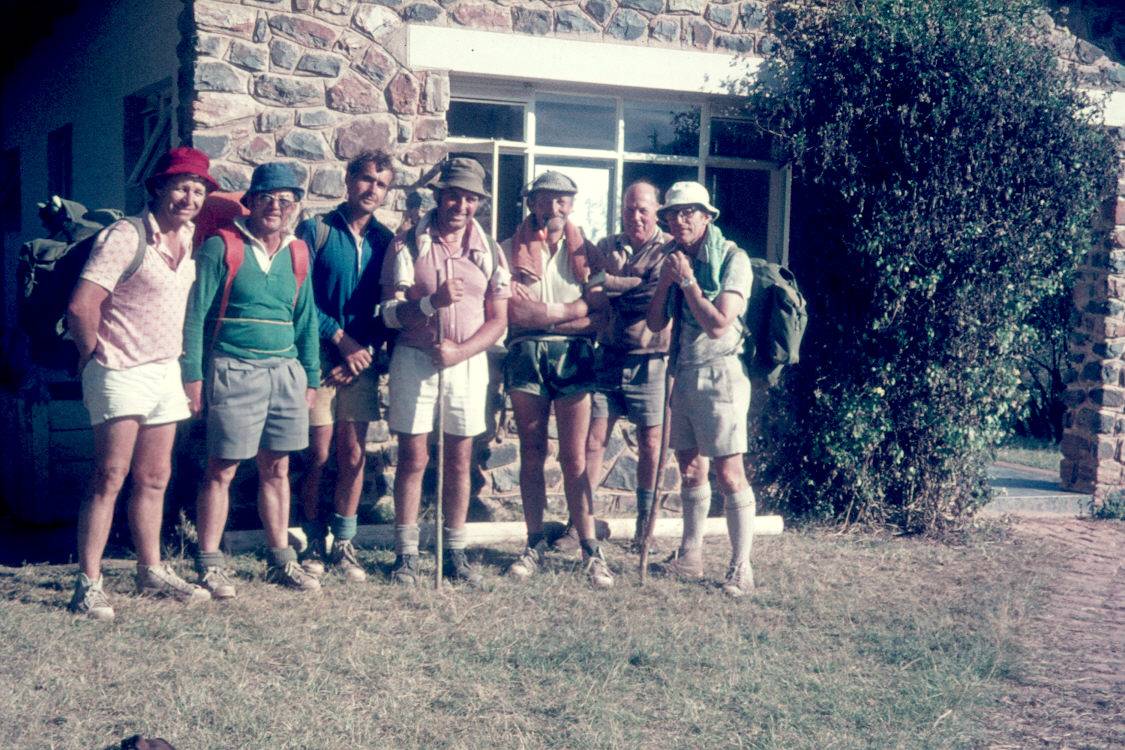 The next two hours spend removing the various layers of grime and four days' growths of beards from our persons, cleaning School camping equipment and generally getting ready for the evening's programme.
At 5 p.m., all members of the Cast foregathered in the Dining Hall for the Course Certificate Presentation Ceremony. We like to believe that Bill Bailey was indeed sincere, when he said that this had been the best Senior Men's Course they'd ever had at the School, with no Prima Donnas and no "Skivers". Nobody had called him an "Uncouth Peasant" and nobody had deserted in the dead of night, as had happened on some previous courses. I do not believe that anyone was tempted to do the latter- as the former, well….!
As each course member's name was called, he went up to receive his much coveted Outward Bound Certificate which certified that he had attended, and completed, Course Number 143- Senior Men, which entitled him to wear the O.B. Badge. The requirement to sign for this certificate, prompted one wag to ask Bill, "Is this to prove that I was still alive when you finished with me ?"
After all certificates had been presented, The Maestro announced that, as was the wont on Senior Men's courses, one individual had been selected, by the staff, as the person who contributed most to the ideals of O.B. on the course, and as that that person would receive the Order of the Silver Trowel or the "Muck Stirrers Trophy", a magnificent stainless steel trowel, suitably inscribed, and ceremoniously brought into the Hall by Baobab Mike. The decision of the staff had been unanimous, and was equally unanimously accepted and applauded, when The Admiral, Alan Robinson, Chief Bailey Baiter and Court Jester, was called forth to receive this well-merited accolade. Alan's opening remark, in replying to Bill's congratulations, "All I can say, Bill, is that it couldn't have happened to a nicer bloke", brought the house down.
And sot to the final event of this very memorable course- the final braaivleis and Course (not Coarse) Concert, which started at approximately 6 p.m.
Previously ordered liquid refreshments were neatly stacked, in patrol formation, on the School trailer, while 3 or 4 "braai-boxes" glowed merrily on the terrace in front of the dining-hall. The steak, boerewors, sadza, and sauces, provided by the School, were tremendous and it wasn't long before the songs started, interspersed with cheerful banter and some serious talk between course members and staff.
Once the inner-man had been satisfied, solids-wise that is, we gathered up the remainder of our liquid refreshments and adjourned to the warmer atmosphere of the Dining Hall, where proceedings for the "Concert" were got underway by Gasman No. 1 and The Shrinker who, between them, rendered an uproarious musical skit on Course No. 143, in which The Maestro's talents featured prominently. Tandaai Entertainments Incorporated, were next on the bill, with their Top of the Pops item, "Make Mine Musicana", and from there on, the concert developed into a terrific show, with songs, limericks, skits, and jokes, following fast, one upon another until, finally, at about 11 p.m., we all adjourned, nigh unto exhaustion, to bed.
Quotable Quote of the Day: "Thank you Bill, and all at O.B. School, for a most wonderful happening !" 22 guys from Course 143.

Return to Top
July 11
This morning dawned with heavy clouds shrouding the upper slopes of the Chimanis, and as Kurt so aptly remarked, "The Mountains are mourning the departure of Course 143 !" However, the Filthy Five were up and away at 6 a.m. for a final voluntary run down the road and back again to plunge, once more, into cold Tessa's Pool - "It's ruddy frozen, real cool, man cool !" Then back to School, breakfast, hand in kit, say final sad farewells, and on our various ways back home.
POSTSCRIPT
Climbing Bill Bailey
With acknowledgements to the composer of "Waltzing Matilda" and dedicated to Course 143, O.B M.S., Melsetter.
Copyright held severally, and collectively, by the Filthy Five,
Tandaai Patrol, Course 143, 1975.
Once an old Tadaaian,
Headed South from O.B. School,
Dressed up in Super Pros,
And Clobber really cool.
And he laughed and he sang,
As he walked along the mountain path,
"Won't you come aclimbing, Bill Bailey with me?
Climbing Bill Bailey, climbing Bill Bailey!
Please come aclimbing, Bill Bailey with me.
A yen I have to build a stove,
Upon the top of Dragon's Tooth,
So, won't you come aclimbing, Bill Bailey with me?"

Then along came young Owen D,
Sailing in his glass canoe.
"What the flippin' hell does he think he can do?
He ain't got his safety rope, carabiner, waist-line, sling,
He'll break his ruddy neck, the daft old thing.
So, don't go aclimbing, don't go a aclimbing,
Please don't go aclimbing, Bill Bailey with him.
He couldn't climb an anthill,
Let alone fair Peza's head,
So let him come canoeing with me instead!"

Then up leapt the O.B. Man,
And dived into cold Tessa's Pool.
"It's bloody frozen, Real Cool man, Cool !"
And his may be heard,
As you walk down by the Ha-roni,
"I'm just as fit as fit can be!
So, please come awalking,
Please come canoeing,
And please come aclimbing, Bill Bailey with me.
You've made me really fit
As fit as I shall ever be,
So don't you start a punch up, Bill Bailey, with me,
Just come aclimbing instead with me!"