Chimanimani Mountains & Outward Bound Melsetter

Trail Mix
A page of miscellaneous trivia, anecdotes, Chims legends - all contributions welcome

The Dreaded Lurgi
Spud Cartoon
Bata Super Pro Boots
Takkie Buscuits
---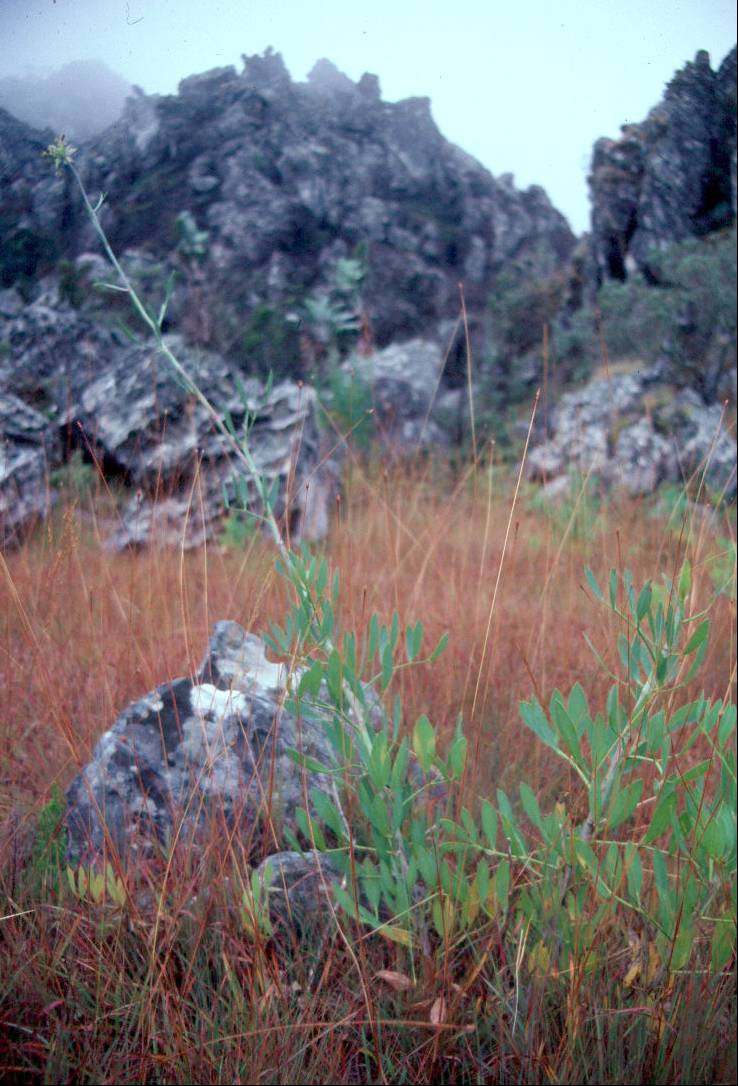 The Dreaded Lurgi - in the mountains can be found a plant which is generally light green in colour. It has thin stalks from which relatively long, narrow leaves grow. Depending on it's location it can grow to be 2-3 feet tall or can be quite low and bushy. For some reason it was know at Outward Bound Melsetter as the Dreaded Lurgi but more commonly as the Blister Bush - Latin name anyone ? The fact being that if the plant is touched by a human and the juice of the plant gets on the skin, then wherever the juice ends up so a blister will form on the skin. The blister will be as big - long or round - as the area of the skin that gets covered by the juice. Another aspect is that when the original blister bursts the liquid - which is commonly found in all blisters, but now "infected" with blister juice - can cause additional blisters if it spreads further on the skin.

Despite dire warnings to all OB students when they first started a course and specific field identification of the plant by instructors during hikes in the mountains, not everyone always took great heed. Indeed despite being very careful during my many trips to the mountains, on at least two of the trips I ended up with blisters - once on a leg and once on an arm.

Of course stories abound - and have been vouched - of poor souls unwittingly using the leaves of the blister bush for toilet paper ! It is hard to not to shudder at the image of the agony that would be !

Any other Lurgi stories welcomed.
Back to Top










---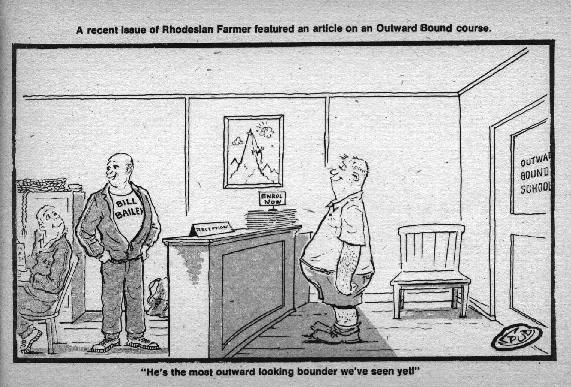 This cartoon was scanned from the 1976 Spud Annual published by Rhodesian Farmer Publications and sponsored by Pfizer (Pvt.) Ltd., RHONAT, Duly & Co Ltd and The Rhodesian Farmer.

Back to Top
---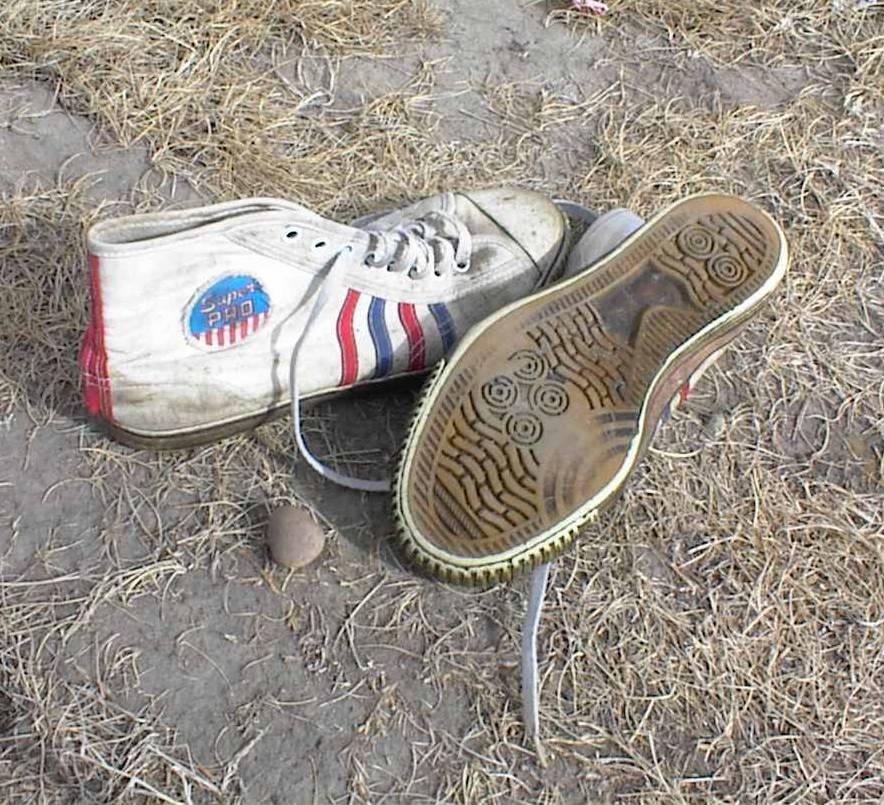 Bata Super Pro-s were originally designed to be basketball shoes but they quickly became the footwear of choice for hiking and general outdoor wear. In sanction-plagued Rhodesia there was no such luxury as the fancy hiking boots we know today. The leather boots favoured by the armed forces were deemed to be much too cumbersome for the versatility of the mountains - hiking, rock climbing, river crossings etc. Super Pro-s, with their high sides, afforded reasonable ankle protection whilst standing up well to the rigors of an Outward Bound course. It was common to carry two pairs. As one pair got wet during river crossings or in rain storms they would be dried out at night around the camp fire whilst the other, dry pair, would keep the feet warm overnight. The pairs were also inter-changeable in the event of a "blow-out" !



Back to Top
---

When I did my Outward Bound course in 1974 one of the highlights of expedition food were Takkie Biscuits. Round and fairly hard they were nevertheless sweet and very delicious with a slab of cheese on them for lunch or after supper snack. Peter, the head cook, had them perfected. Later that year I was leading a Plumtree expedition to the Drakensberg so I wrote to Mrs (Lorraine) Bailey asking her for the recipe so that we could make our own takkie biscuits to take with us. Here's a copy of her reply :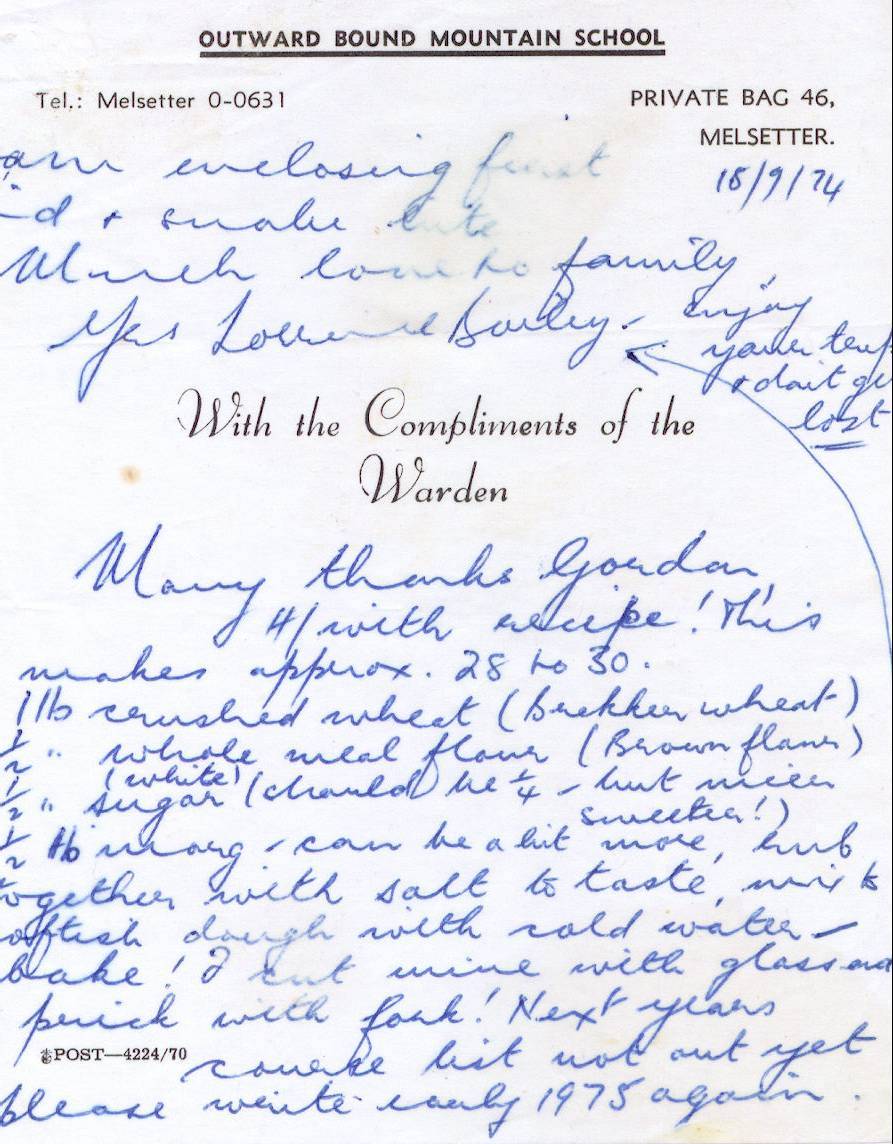 Recipe - makes approx. 28-30
1 lb crushed wheat (Brekka Weet)
1/2 lb whole meal (brown) flour
1/2 lb white sugar (she says - should be 1/4 lb but nicer sweeter !)
1/2 lb marg
Rub together with salt to taste, mix to softish dough with cold water - bake
"I cut mine with glass and prick with a fork" she adds.

She ends by saying "Enjoy your trip and don't get lost !"
---

Home

Page Updated July 19, 2002